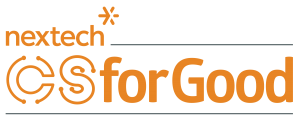 Technology permeates every aspect of young people's lives, affecting how students live, socialize, learn and play.  Through computer science curriculum, they are introduced to the how of technology and are told they too can be innovators.  But what if we could show students how they can use CS to drive positive change in our ever-evolving world? That is what the CSforGood competition is all about. Working with a teacher sponsor, teams of 2-5 students develop a project showing how technology – either a software application, website or physical computing device – can be used to solve a problem in their school, community, or the world.
The culmination of the CSforGood competition is an event at the Indiana Statehouse atrium where student finalists are invited to Indianapolis to showcase the projects they created as part of the competition.  Legislators, policy leaders, influencers, and the tech community have the opportunity to learn from and alongside students as they explore a myriad of CS projects showcasing apps, the web, and computing devices. Attendees also have an opportunity to investigate the real-world applications of computer science and how CS bridges the gap between classroom and careers, beginning in middle school.
The competition has three divisions: elementary, middle and high school. Each division will have one winning team, and each member of the winning team will be awarded $500 worth of tech gear.
Nobody likes to see their driveway covered in snow; nor do they like having to shovel it.  A group of elementary students designed a remote control robot that clears away snow with the push of a button. There were two key aspects – the physical robot itself as well as the coding to make the robot follow a pattern, scoop up snow and then empty the plow.
Team participants created an interactive web site where consumers can find what organic food is available at which stores at what cost. Site visitors can also bookmark their favorite vendors. Finally, there is an administrative panel whereby businesses can post what foods they have available, including both an image and description as part of their posting.
Brebeuf Jesuit Preparatory
The winning team created a Google add-on web application that combines Google Classroom data and user input to create a personalized schedule that automatically matches class information – period number, PRT letter and lunch letter – with start times. Preset event notifications will also be beneficial in reducing tardiness and anxiety regarding tardiness.