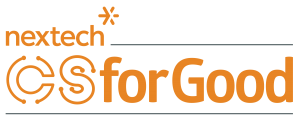 Celebrating and recognizing the unbridled imagination of primary and secondary students across the state, the Nextech CSfor Good Fall Competition challenges K-12 Hoosier students to innovate, create and build positive change in their schools and local communities.
Working with a teacher sponsor, teams of 3-6 students across three divisions: elementary (K-5), middle (6-8) and high (9-12) school, will submit a technology project – either a software application, website, physical computing device or prototype (digital or paper) – that they created to demonstrate how computer science can be used for good when applied to real problems that affect their schools and communities.
The top four teams from each division will be invited to the Nextech CSforGood Celebration on Wednesday, December 8, 2021 at the Indiana Statehouse in Indianapolis, which is during Computer Science Education Week. The finalists will showcase their projects, along with how they honed their problem solving, teamwork and CS skills, to a panel of judges, legislators, policy leaders, influencers and the tech community. One winning team per division will be announced at the end of the event. Each winning team member will be awarded $200 worth of their choice of tech gear and teacher sponsors will receive $1,000 in tech for their classrooms.
All projects are due on November 2, 2021 and the top teams will be announced on November 15, 2021. Student teams can get started on their projects as soon as they would like. If you need help getting started, view the competition details.
For each team that you sponsor, we will be providing one micro:bit for you to have and use in your classroom. How awesome is this?  Think about using CSforGood in your classroom as a group project to maximize your potential. You must register and submit in order to receive the micro:bit.
(Maximum 10 micro:bits per sponsor teacher)
Want to promote the competition to your students or school families? Download the
CSforGood Flyer
now.
Student Description:
Our robot is a mask detector. It can detect if you are wearing a mask. We used artificial intelligence to train the mask detector. Then we made a robot arm that will pick up the mask and hand it to them if the AI says you're not wearing one. This robot can solve the problem of people not wearing their masks, which is important to prevent them from being sick or to spread Covid.
Student Description:
Our project solves the problem of pollution by taking pictures with a drone in polluted parks, running that through a program to determine if there is trash in the photo, and putting pictures of trashy parks on our website. This involves CS by putting those pictures through an artificial intelligence that we trained to identify trash then transfer that information to this website to tell people where the trash is.
Hamilton Southeastern High School
Student Description:
The food scarcity problem is rampant throughout our school, and not much is being done to get the resources from our school's shelter to the students that need them. Our website aims to address the CSforGood problem by providing accessible, anonymous, and easy to find and use access to these resources in a responsive and user friendly experience.