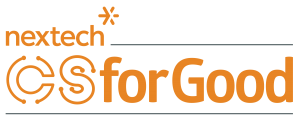 Celebrating and recognizing the unbridled imagination of primary and secondary students across the state, the Nextech CSfor Good Fall Competition challenges K-12 Hoosier students to innovate, create and build positive change in their schools and local communities.
Working with a teacher sponsor, teams of 3-6 students across three divisions: elementary (K-5), middle (6-8) and high (9-12) school, will submit a technology project – either a software application, website, physical computing device or prototype (digital or paper) – that they created to demonstrate how computer science can be used for good when applied to real problems that affect their schools and communities.
The top four teams from each division will be invited to the Nextech CSforGood Celebration on Wednesday, December 8, 2021 at the Indiana Statehouse in Indianapolis, which is during Computer Science Education Week. The finalists will showcase their projects, along with how they honed their problem solving, teamwork and CS skills, to a panel of judges, legislators, policy leaders, influencers and the tech community. One winning team per division will be announced at the end of the event. Each winning team member will be awarded $200 worth of their choice of tech gear and teacher sponsors will receive $1,000 in tech for their classrooms.
All projects are due on November 2, 2021 and the top teams will be announced on November 15, 2021. Student teams can get started on their projects as soon as they would like. If you need help getting started, view the competition details.
For each team that you sponsor, we will be providing one micro:bit for you to have and use in your classroom. How awesome is this?  Think about using CSforGood in your classroom as a group project to maximize your potential. You must register and submit in order to receive the micro:bit.
(Maximum 10 micro:bits per sponsor teacher)
Want to promote the competition to your students or school families? Download the
CSforGood Flyer
now.
Nobody likes to see their driveway covered in snow; nor do they like having to shovel it.  A group of elementary students designed a remote control robot that clears away snow with the push of a button. There were two key aspects – the physical robot itself as well as the coding to make the robot follow a pattern, scoop up snow and then empty the plow.
Team participants created an interactive web site where consumers can find what organic food is available at which stores at what cost. Site visitors can also bookmark their favorite vendors. Finally, there is an administrative panel whereby businesses can post what foods they have available, including both an image and description as part of their posting.
Brebeuf Jesuit Preparatory
The winning team created a Google add-on web application that combines Google Classroom data and user input to create a personalized schedule that automatically matches class information – period number, PRT letter and lunch letter – with start times. Preset event notifications will also be beneficial in reducing tardiness and anxiety regarding tardiness.