All
Nextech Staff
Board of Directors
Facilitators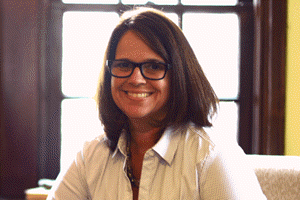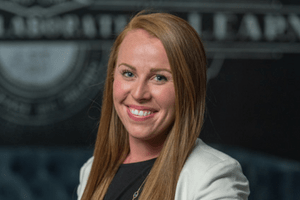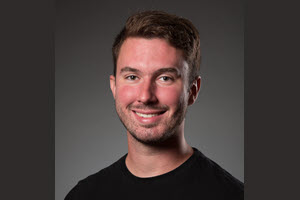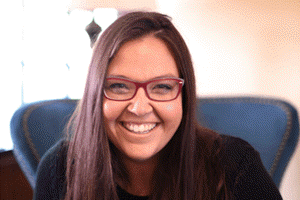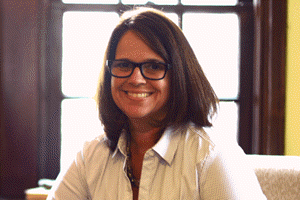 President
Karen Jung
Karen's diverse background, business acumen and philanthropic passion make her an ideal leader for Nextech. As president, Karen connects the dots—and people—to fulfill Nextech's vision of transforming K-12 students from technology consumers into next gen tech pioneers.
Karen developed a successful career as a product expert for several leading technology companies, most recently ExactTarget. She held management roles in product and marketing management before transitioning to corporate philanthropy. As Executive Director of the ExactTarget Foundation, Karen developed innovative new programs that engaged people, technology and resources to address childhood hunger, education and entrepreneurship. She also spent 15 months working in Haiti for the Visitation Hospital Foundation.
Karen has put her expertise and education—a bachelor's degree from DePauw University and master's degree from the Krannert Graduate School of Management at Purdue University—to work professionally and as a community volunteer. She currently serves on the board of Building Tomorrow.
Karen firmly believes in the transformational power of computer science education to prepare students for success in the classroom and in life.
Chairman of the Board
Scott Dorsey
Scott Dorsey is a successful entrepreneur who co-founded ExactTarget and led the company from start-up to global marketing software leader. ExactTarget went public on the New York Stock Exchange in March 2012 and sold to Salesforce.com in July 2013 for $2.7 billion.
Scott is an acclaimed technology executive who has earned numerous accolades for his leadership, including Ernst & Young Entrepreneur of the Year, American Business Awards Executive of the Year, TechPoint Trailblazer in Technology, and BtoB Magazine's Who's Who List, to name just a few.
Scott serves on a number of nonprofit boards in the community, including Chairman of the Indiana Sports Corp., Board and Executive Committee member of TechPoint, Chairman of the Tinderbox Board, Dean's Advisory Board at Indiana University School of Informatics and Computing, Global Advisory Board at Kellogg School of Management at Northwestern University, and Emeritus Board member at Central Indiana Corporate Partnership.
Scott is a business school graduate of Indiana University and earned an MBA from the Kellogg Graduate School of Management at Northwestern University.
Chief Development Officer
Bobbi Bosch
Bobbi brings over 20 years of nonprofit experience to her role as the Chief Development Officer of Nextech. Her passion is matching donors to mission. She believes wholeheartedly in the wise words of American educator Booker T. Washington, "Those who are happiest are those who do the most for others."
A consummate development professional, she has held lead development roles at Christel House International and the Indiana University Foundation. Bobbi started her career in government, followed by seven years in the banking industry, working in Public Funds and Cash Management for Bank One and Keybank.
Bobbi earned her B.S. from Ball State University and is a Certified Cash Manager (CCM). She is a member of the Propylaeum and has served on the United Way of Central Indiana's Capital Projects Committee as well as several other volunteer roles throughout the Indianapolis community.
She and her husband Glenn are the proud parents of Hayden and enjoy spending time in Michigan with their dogs Thunder and Artemis.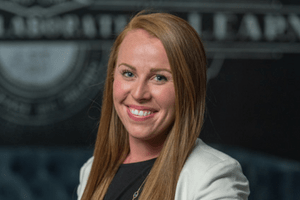 Manager, Program Excellence
Sarah DeLong
"Excellence is the gradual result of always striving to do better." – Pat Riley
After graduating from Butler University with a bachelor's degree in Strategic Communications and Critical Communication Media Studies, Sarah knew that she had a passion for non-profits. She spent her first two years after graduation in program management for a workforce development initiative at Boy Scouts of America. From there, she decided to take her knowledge to the next level and work towards a Masters in Business Administration from University of Indianapolis. During his time, she found herself launching into all things computer science at Nextech.
She has worked several different roles at Nextech. Most recently, she is dedicated as the Manager of Program Excellence. Since Nextech strives for excellence in all facades of the organization, she has roles in many different projects.
She has found career fulfillment in leading the Nextech CSforGood program, being a staff lead at the Indianapolis Catapult location and being a set of helping hands for CSPD Week. She prides herself on keeping a positive attitude while having forward movement on projects.
Facilitator
Beth Kimball
Indiana School for the Deaf
K-5 Facilitator
Facilitator
Anne Leftwich
Indiana University
K-5 Facilitator
Facilitator
Sara Roberts
Triton Central Middle School
6-12 Facilitator
Facilitator
Julie Alano
Hamilton Southeastern High School
9-12 Facilitator
Facilitator
Rashad Welch
Avon High School
9-12 Facilitator
Facilitator
Scott Dooley
Christel House Academy South
6-12 Facilitator
Facilitator
Nick Fishel
Hamilton Southeastern High School
9-12 Facilitator
Director, Educator Success
Jenna Garcia
Jenna lives, breathes, and dreams all things computer science. She fell into the subject by accident when she joined the cross country team her freshman year in high school and her coach was the school's CS teacher. Ever since then, Jenna has had a unique career path having worked in the industry as a software developer, solution architect, and consultant, as a high school computer science and math teacher, and for the last 9 years at computer science education non-profits.
As the Director of Educator Success at Nextech, Jenna makes it her personal mission to make every K-12 teacher in the state of Indiana's lives just slightly easier.  She prides herself on vetting materials while curating the best-in-class options for every gradeband and need throughout the state.  When materials don't exist, she works to find viable solutions or create her own for teachers to use to help them bring high-quality computer science to their students.
Jenna's passion for all things computer science is palpable and contagious.  If you have any ideas or suggestions on how to improve things for CS teachers, don't hesitate to reach out as Jenna is always willing to lend an ear and ideate on new possibilities!
Facilitator
Brandy Hicks
Milan Community Schools
K-5 Facilitator
Board Member
Mary Kay Huse
Mary Kay Huse is the CEO and co-founder of Mandolin, a fan intelligence and engagement platform built to help artists own their fan relationships and revenue destiny. Named Fast Company's Most Innovative Music Company of 2022, Mandolin has received top honors from the likes of Pollstar, Billboard, Variety and more thanks to Fan Navigator, an intuitive, all-in-one solution that unifies and enriches fan data so artists can truly own, understand and activate their fans and Fan Experiences, the industry's most comprehensive set of fan connection tools.One of Billboard's 2022 Women in Music Top Executives List, Huse is dedicated to women leadership development in the technology sector, currently serving as Chairman for Girls Inc. of Greater Indianapolis. She is also on the board of Nextech, a non-profit focused on computer science education in K-12 Indiana schools, and the advisory board of the #iVoted Festivals. A graduate of DePauw University, Huse previously served as the EVP & COO of Salesforce Marketing Cloud, helping drive Salesforce's fastest growing $1B+ business unit.
Facilitator
Angela Jones
George Washington High School
9-12 Facilitator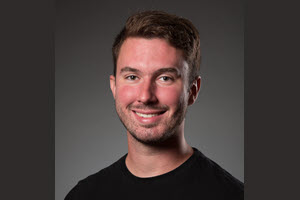 Facilitator
Jacob Lepper
Carmel Middle School
K-5 Facilitator
Board Member
José Martínez
José V. Martínez is the senior vice president and chief information officer (CIO) for OneAmerica. In this role, he is accountable for all IT planning, program and support functions. He has over 20 years' experience in the IT sector and extensive experience in strategic sourcing, vendor management, relationship management, project management, and IT engineering design and support. Prior to this appointment, he served at OneAmerica as vice president, IT infrastructure and application support, and vice president, business relationship management and enterprise architecture.
Since joining OneAmerica in 2014, José has led multiple strategic initiatives to transform the IT support model. In 2014, he led the OneAmerica contract negotiations and transition of services from the prior infrastructure outsource service provider to the current provider. In 2016, he was part of an executive team that led an end-to-end reorganization effort within IT to shift to a Plan-Build-Run delivery model, creating new IT functions such as business relationship and service management. In 2020, he implemented DevOps and Agile modern frameworks into the IT operating model.
Prior to joining OneAmerica, José served as vice president, communications as a service for Interactive Intelligence, managing all datacenters worldwide for the company's cloud product. In addition, he served as a senior global delivery executive at IBM, accountable for the delivery of a broad range of IT outsourced services for corporate clients.
José holds bachelor's and master's degrees in mechanical engineering from the Georgia Institute of Technology. He also completed an advanced management executive program from the University of Chicago Booth School of Business.
Board Member
Jen Oleksiw
Jennifer Oleksiw is currently the Vice President and Information Officer for Lilly Bio-Medicines & Business Unit IT Shared Services. In this position, Jennifer provides strategic partnership to Lilly USA, Europe and Japan, the established markets that comprise Lilly Bio-Medicines, to ensure delivery of business value through technology solutions.
Jennifer joined Lilly in 2000 from Ernst & Young. She has held various leadership positions in Global Services IT, Manufacturing IT and Lilly's Research & Development IT organizations. In her most recent assignment in Manufacturing IT, she was responsible for developing and executing the IT strategy for the Dry Product, Parenteral, Device, and Distribution sites. In this role, she also had responsibilities for the Data Integration and Document Management teams as well as the Manufacturing Execution System implementations. Prior to that, Jennifer's responsibilities included the development and launch of IT solutions for Integrative Informatics, Combined Specimen Banking, Drug Metabolizing Enzymes and Transporters (DMET) and gene assay management. Jennifer has also served in various Application Engineer and Leader roles across multiple releases of Lilly's global SAP implementation.
Jennifer received a Bachelor of Science degree in Business from Indiana University and a Master's degree in Business Administration from the Kellogg School of Management at Northwestern University.
Director, Student Experiences
Jill Van Oostenburg
Jill is a technologist by mistake. After graduating from Purdue University with a degree in Organizational Communication, and obtaining her educators license at IUPUI, Jill spent the formative years of her career in the halls of Lawrence Central high school helping educators implement technology in their classrooms. She also worked as an Education Instructional Specialist for IBM, combining both education and technology.
From there, Jill spent over 12 years at ExactTarget, Salesforce and Octiv with the majority of her career spent onboarding new employees, creating curriculum and training clients and partners on how to use the ExactTarget/Salesforce Marketing Cloud and Octiv platforms.
Jill was looking for a way to blend her years in education and technology. She landed at Nextech and is charged with creating experiences for high school students to better connect them to Central Indiana's thriving tech scene. Jill considers this to be her dream job and a means to fulfill her mission to serve the youth of Indianapolis.
Facilitator
Maria Sellers
South Vermillion Middle School
K-5 Facilitator
Computer Science Professional Development Specialist
Kerry Sensenbrenner
Kerry Sensenbrenner is a dedicated professional who has found her niche in the intersection of education and technology. Kerry's journey with Nextech began as a teacher searching for comprehensive training in computer science. This initial interaction marked the start of a transformative path that has defined her career.
Over the past five years Kerry has embraced her role as a facilitator of K-8 teacher professional development. Guiding and empowering educators has become her passion, as she equips them with the tools to seamlessly integrate computer science into their teaching strategies. Kerry's classroom experience spans teaching standalone computer science courses in both middle and high school settings. Additionally, she has several years experience in incorporating computer science concepts into 6th-grade science, fostering interdisciplinary learning approaches that prepare students for a tech-driven future.
Kerry's commitment to advancing computer science education extends beyond the classroom. As an IDOE (Indiana Department of Education) Computer Science Shamp, she advocates for the integration of computer science curricula and resources throughout the state. She has also served as a Governor's Workforce Cabinet Research Fellow, contributing valuable insights to the ongoing conversation about the relationship between education and workforce development. Kerry's involvement in the Teach Plus Policy Fellowship reflects her dedication to shaping education policies that have a lasting impact.
When not immersed in her work, Kerry finds joy in her family life. She resides in Southern Indiana with her husband and two children, who continually inspire her to nurture curiosity and a love for learning.
Board Member
Bill Soards
Bill Soards was named President of AT&T Indiana in October 2013. Bill is responsible for external affairs for AT&T Indiana including; state and local government relations, community affairs, regulatory and legislative activities, and initiatives before the Indiana General Assembly and the Indiana Utility Regulatory Commission (IURC).
Before joining AT&T 17 years ago, Bill began his career in public policy as a partner in an Indianapolis based association management and government relations firm. In 2000, he joined AT&T (then Ameritech) as Director of Government Relations. In 2006, Bill helped lead the effort to de-regulate the telecommunications industry and establish a statewide system for cable video competition. That legislation, the Indiana Telecom Reform Act was signed in March 2006 by former Indiana Governor Mitch Daniels and continues to attract jobs and investments across the State.
In 2007, Bill worked in Chicago, Illinois, and was named Assistant Vice President of Public Affairs for AT&T's Midwest region. Coordinating policy campaigns, managing research, messaging, third parties, and foundation activities in five Midwestern states were among his chief responsibilities. In April 2009, Bill was named President of AT&T Colorado, a position he held until he returned to the Hoosier state in 2013.
In addition to his passion for technology, public service has always been a part of Bill's life. His father, the late Bill Soards Sr., served 20 years in the Indiana General Assembly before retiring in 1994. The younger Soards was elected and served 9 years in local government as a member of the Indianapolis City-County Council and the Boone County Council.
Bill holds a Bachelor of Science degree with honors in Telecommunications from Butler University in Indianapolis. In 2004, the University honored Bill with both the 50 Under 50 Top Alumni Award and the Hilton U. Brown Alumni Achievement Award. Bill studied abroad at The University of Westminster in London, England, focusing on political science and playing on the school's basketball team.
Bill and his wife Ann reside in Zionsville with their two daughters, Katelyn and Allison.
Facilitator
Raegan Towne
Perry Meridian High School
6-12 Facilitator
Board Member
Ashley Vukovits
Ashley Vukovits utilized her expertise in finance and operations for nearly 14 years at Interactive Intelligence, running the Finance function for the majority of that time and then serving as Chief Financial Officer, Senior Vice President of Administration, Secretary and Treasurer. During her tenure as CFO, she co-lead a successful sale of the company in a $1.4 billion transaction to take the company private.
Prior to that, Ashley held senior finance positions with Union Acceptance Corporation, a public auto finance company, and spent three years as an audit professional at KPMG LLP. Ashley is a 2016 Leading Light Leadership Award nominee and a 2015 Women of Influence Honoree.
Ashley is passionate about at-risk youth. She helped found the Interactive Intelligence Foundation, whose mission is to serve at-risk youth around the world, and served as their Treasurer for seven years. Ashley is on the advisory council for Informatics: Diversity-Enhanced Workforce (iDEW), which offers computer sciences classes for three inter-city high schools.
Ashley holds a bachelor's degree with majors in accounting and finance from Miami University and she is a Certified Public Accountant.
Facilitator
Nick Weyer
Tell City Jr Sr High School
9-12 Facilitator
Program Operations Associate
Sarah Wilcox
Sarah is our newest team member who comes to us with over 11 years serving in public education, previously at Metropolitan School District of Warren Township. She graduated from Ball State University with a Bachelor's Degree in Family and Child Studies and minors in both Human Development and Psychology. She has a passion for helping young people realize their potential and offers a wealth of knowledge and experience. As a native Hoosier, Sarah is excited to make her mark in K-12 computer science education to give all Indiana students – including her own – a fantastic future in the heartland.
As the Program Operations Associate, she ensures programs run smoothly and efficiently, wearing many hats on the team and helping wherever she is needed.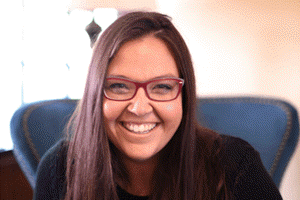 Vice President, Programs
Stephanie Zircher
Stephanie Zircher is the VP, Programs at Nextech where she leads educator and student programs, such as district recruitment, teacher training, and the expansion of K-12 student experiences.
After graduating from Purdue University, she joined ExactTarget as the Manager of Training in 2005 and has been with Nextech since 2015. Stephanie has spent much of her career in training and talent development and is well-versed in learning theory and design. In the 15 years working in the Indiana tech industry, she realized people of all backgrounds-not just coders can be successful in tech and has dedicated her career to make that happen.
Stephanie is proud to represent Indiana's CS expansion efforts on many local and national working groups and coalitions, in and out of the state of Indiana. Stephanie's passion to keep tech talent in Indy permeates everything she does.
When not thinking CS, Steph can be found with her three boys and husband on a soccer field, in the audience of a play, cheering at a football game, or enjoying a rugby match.
Facilitator
Holly Swartz
LaVille Elementary School
K-5 Facilitator